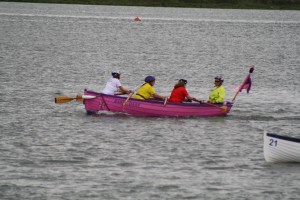 June draw results at £50 each went to number 67 Ralph Hobden, number 147 Debbie Kiddier, number 162 Geoffrey Clark and another of Geoffrey's other numbers 111!! Double whammy or what. We've asked him to tell us how he is going to treat his wife. Thank you all again so much for your continued and valued support.
2nd Quarter Big Oars Draws were drawn on Wednesday 30th June and the results were as follows:
1st Prize £250 to No. 87 Lew Schnurr who very generously donated it to the RNLI – thank you so much Lew!
2nd Prize £100 to No. 125 Doug Milsted
3rd Prize £76 to No. 50 David Moule
Congratulations everyone and thank you for your continued support.

May draw results were £50 each to number 199 Samantha Martin, number 194 Colin Trowles, number 114 Rob Bryson and number 70 Peter Ellis. Peter Ellis has put his £50 back into the RNLI pot, saying that they need the money more than him.  
Thank you Peter, and thank to you all for your continued support.
Photo is from September 2012 at the Round Northey Island row. Our theme was le Tour de France, inspired by Sir Bradley Wiggins and renamed le Tour de Northey!