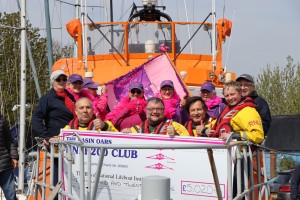 On Saturday 24th April we had a cheque presentation from us to the Maldon Branch of the RNLI in respect of last year's total funds raised through our 200 Club which amounted to £5,020.
If you head to our Facebook page you will be able to see a much appreciated article published about the presentation in INYOURAREA.COM
Lovely to see so many people on lock side supporting this. It was an honour to have the West Mersea Lifeboat crew attend for what was their first PR function of the year! We also drew the weekly draws for April and the results are as follows, with each winning £50
No. 151 Janice and John Frost
No. 157 Jacqueline Yorston
No. 101 Steven Wood
No. 121 Lew Schnurr
Congratulations everyone and thanks for your continued support.