Our fun dog show in aid of ROW4AREASON was held on Saturday 13th June 2015 in Daisy Meadow, Heybridge Basin.
Despite the weather starting out damp we had a great turnout.
This is our 12th year of running the show and it's grown in popularity year on year to become one our village's established annual events with the sole intention for everyone to have fun! Its other main aim is to raise valuable funds for the annual sponsored rowing race around Northey Island, organised by Row4AReason, which is to be held on 25th September.
There was a strong crowd with 59 dogs which were entered into  numerous classes totalling 194 entries.
The emphasis of this show is FUN for all the family, with child handlers being actively encouraged.
The judges this year were Carole and Keith Lawson and Peggy and Dave Howard.
During the interval the Burnham Collaborators Flyball Team gave an insight into this exciting sport.
The results were:
Best in Show – Charlotte Maynard and Reuben, Reserve Best in Show Master Wood and Tia.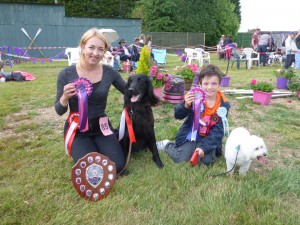 The Best Partnership – awarded by the Heybridge Parish Council to Steve Sumner and Bella.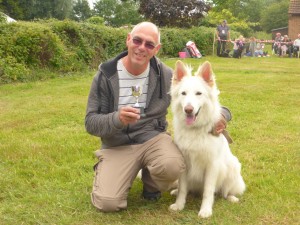 Class 1 Prettiest Bitch – Madda and Mark Osbourne
Class 2 Most Handsome Dog – Archie and Diane Smith
Class 3 Most Appealling Eyes – Jarvis and Sue Wadwell
Class 4 Best Condition – Rueben and Charlotte Maynard
Class 5 Fastest Sausage Eater – Jambo and Daryl Flint
Class 6 K9 Kids – Harvey and Tadhg Leeson-King
Class 7 Perkiest Pensioner – Cookie and Vanessa Mallow
Class 8 Agility Stakes – Zebbie and Nina Gibson
Class 9 Dog Judges would most like to take home – Reuben – Charlotte Maynard
The amount we raised was just over £850.00!! The monies coming from entry fees for classes and the agility arena, the refreshment tent (hot dogs and home made cakes), home made dog biscuits and home made crafts. We also had two smaller competitions, Guess How Many Dog Biscuits in the jar and Name the Cuddly Toy. This a free entrance event and we'd like to thank those people who very kindly put donations into our bucket.

The team and all their loyal helpers, work so very hard for these few hours of fun. Heartfelt thanks to all.